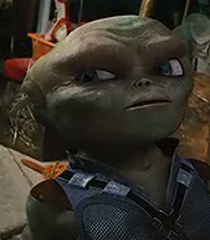 Razor is a lethal soilder from Zirkonian in Aliens in the Attic. She is the only female of the team and she has a little crush on Tazer, even through she tries to hide it by just hitting him or insulting him. She came back for Tazer, after he is shrunken and says they can "hug" lips on Zirkonan. She is voiced by Kari Wahlgren.
Ad blocker interference detected!
Wikia is a free-to-use site that makes money from advertising. We have a modified experience for viewers using ad blockers

Wikia is not accessible if you've made further modifications. Remove the custom ad blocker rule(s) and the page will load as expected.